THE COGNITIVE SIX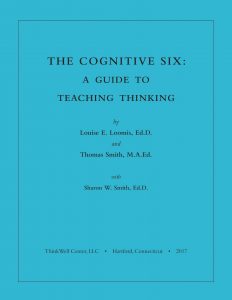 The Cognitive Six is a teaching tool that excites learning. It is a book that can be used immediately to create content-based lessons that use and teach the six ways our brains naturally think.
Since the vast amount of language used daily in our world–in print, talk, and media– is generally lacking in critical analysis and problem solving, we believe it is imperative that thinking skills become part of general education and daily life. Both the Common Core Standards and the 21st Century Education Goals support this claim. 
Although, The Cognitive Six is recommended for grades 3rd to 8th, it can be used by all. The Cognitive Six enables all users to meet the challenges that require thinking and problem solving in their lives. This is accomplished without disrupting the demands of daily activities. 
THE COGNITIVE SIX SKILLS
 The Cognitive Six are the ways in which our brains naturally organize information.
They are:
NAMING/THINGMAKING
(What is it called?)
QUALIFICATION/DESCRIBING
(How can it be described?)
CLASSIFICATION/GROUPING
(Are there others like it?)
SEEING ANALOGIES/RELATING
(How does it relate to others)
STRUCTURE ANALYSIS/BREAKING DOWN AND BUILDING UP
(Does it have parts? Is it part of something else?)
OPEARATION ANALYSIS/SEQUENCING
(Does it change over time? Does it have steps?)

ABOUT THE AUTHORS:
Louise E. Loomis, Ed.D., a retired Assistant Professor from Hartford College for Women, also taught Critical Thinking and Creativity (CCT) at Weaver High School, and at Fairfield University. She provides programs in CCT for learners of all ages: especially seniors. She is the founder of the New England Cognitive Center in New London, CT; and currently runs the ThinkWell Center LLC in Hartford, CT.
Thomas G. Smith, M.A.Ed., is a retired teacher of English and facilitator for Talented and Gifted Programs at Weaver High School, Hartford, CT. Tom was also a Teacher/ Instructor of Critical and Creative Thinking at Weaver High. Since 1994, he has been the Chief Operator of WQTQ FM 89.9 Weaver High School Broadcasting.
ORDER YOUR COPY TODAY
To order your copy of The Cognitive Six: A Guide to Teaching Thinking, 
Cost per book is $30.00 +(plus additional applicable Connecticut sales tax)
                                                $30.00   (Cost for Book)
                                              +  $1.91    (CT Sales Tax)
                                                $31.91  Total Cost/Book
Note: There will be an additional $5.00 (shipping and handling charge)/ per book if mailed.
We also offer the Train of Thought (a Classroom Tool for Teaching Cognitive Six) at $15.00/set.
Each set contains 8 (8½in X 11in) cards
Click link for downloadable PDF Order Form: