While you can't be sure critical thinking w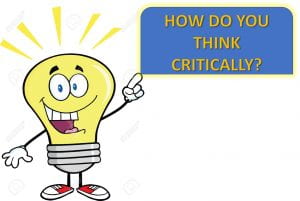 ill provide correct answers, you can avoid obvious mistakes in thinking. First, metacognate!  When you have a problem to solve or a decision to make, think about your thinking. Sleep on it, count to ten, or use some other method to give yourself time to think. You need to be able to calm your brain because many situations requiring critical thinking are emotionally upsetting. The part of the brain that thinks critically does not function at its best under stress, time pressure, or emotional shock.
The following six guidelines can help you develop your critical thinking ability. They were adapted from material written by Anita Harnadeck.
Be open-minded about new ideas.
Know when you need more information.
Be aware that different people have different ideas about the meanings of words, expressions, gestures, etc.
Know the difference between something that must be true and something that might be true.
Separate emotional and logical thinking.
Develop your vocabulary in order to understand others and to make yourself understood.
By using these six guidelines, you can increase your self-esteem because you feel mentally competent in many situations. The guidelines will be helpful for:
Identifying situations that can be improved by critical thinking.
Developing conscious attention to your thinking (metacognition).
Increasing your confidence about your thinking.
avoiding harmful gossip and futile arguments.